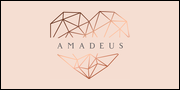 Date joined Paid On Results: 24th May 2022
Affiliate Acceptance: Merchant Approval
Cookie Length: 30 Day(s)
Merchant URL: https://www.amadeusbijoux.com/
Product Feed: Yes
Amadeus is a demi fine jewellery brand handmade in the UK with a focus on sustainability and ethical practice. We seek to create jewellery pieces that combine style and conscience instead of contributing to the culture of fast fashion. The brand recently certified B Corp and has in fact set up concrete and transparent processes:
In terms of materials used:
- We use recycled silver and gold in all our jewellery.
- Pre-loved gemstones and pearls purchased second hand and then cut to size. The reason we opted to do this is that sourcing ethical stones is difficult, in part because there are no established bodies tracing gemstones from mine to market.
On a social level:
·We are very proud to create ethical jewellery for women by women.
On an environmental level:
·We use vegan and non-toxic products only in our manufacturing process.
·We recycle every last scrap of metal whilst making new pieces.
·Our packaging is plastic free and made of recycled materials. For example, our jewellery pouches are hand made in our studio using recycled clothing.
·For every order you place we plant trees with our partners Tree-Nation in order to make all our deliveries carbon neutral.
·We are fully aligned to the UN Sustainable Development Goals.