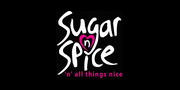 Date joined Paid On Results: 26th August 2021
Affiliate Acceptance: Auto Accept
Cookie Length: 14 Day(s)
Merchant URL: https://www.sugarnspicebakes.co.uk/
Product Feed: Yes
Sugar 'n' Spice…..'n' all things nice by Ashbourne Foods UK. Decadent Muffins, indulgent cupcakes, flapjacks, cake slices, popcorn bars, biscuit bites and much more.
Our delicious bakery treats offer something for everyone whether treating yourself or treating that somebody special. Check out and indulge in our exclusive 'Treat Boxes' – The perfect sweet treat gift to send to someone special, featuring a mix of decadent cupcakes, indulgent muffins and more.
Bakery treats for all the family to share and enjoy
Say it with flour… the perfect sweet treats gift to send
FREE UK mainland delivery when you spend £40 or more
Delivery direct to door
Vegetarian
Baked in the UK
Established 2010
Ambient
Long shelf-life
Individually wrapped
Halal approved
Gluten-free options available
UK Shipping Only
Sugar 'n' Spice has been baking products for over a decade in Leicestershire, supplying the nation's food service and wholesale outlets, as well direct to consumer via the website at www.ashbournefoods.com.
The Sugar 'n' Spice brand is becoming increasingly present online with marketing done via Google and Amazon, Social and Email. The brand also has a loyal subscriber base with regular sales from returning customers and good conversion rates from new customers. We also run regular monthly offers with fantastic discounts that are always popular with our fan base.
Besides the gift market, the Sugar 'n' Spice brand also appeals to workplaces, corporate events, and weddings and other celebratory events.
Ashbournefoods.com is a sister company of Blackfriarsbakery.co.uk a well known and established snack and flapjack brand for over 30 years.
Please note we currently only ship to United Kingdom.