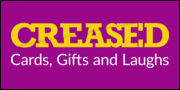 Date joined Paid On Results: 07th December 2016
Affiliate Acceptance: Auto Accept
Cookie Length: 30 Day(s)
Merchant URL: https://www.creasedcards.com/
Product Feed: Yes
Creased is an exciting and unusual greeting card and gift retailer – with a great focus on humour cards and gifts, as well as more premium handmade and sought-after products.
Creased spend a great deal of energy and time on selecting only the best publishing and supplier partners, so that the mix of products on offer is unique and attractive as a 'one-stop' shop for great cards & gifts. They deal with a large amount of up-and-coming publishers which certainly ensures a freshness to their product lines and selection – in fact they are known in the industry as the 'ones to watch' for new trends!
Based in Brighton UK, Creased has one 'bricks 'n' mortar' store however the e-commerce side of their business is fast expanding. A fresh new look site launched at the end of November 2016, with great new functionality, improved checkout procedures and a significant jump in products available. That, coupled with their usual dispatch promise – order by 5pm for 1st Class post sent that day - means the site offers customers a premium buying experience.
Demographics
Mostly female shoppers but we have a growing number of regular male buyers, with significant peaks for traditional card buying seasons – Christmas, Mother's Day, Father's Day & Valentines.
As you would expect, the majority of purchases come from the UK but we do a have a good sized following in the Middle East, USA, Canada & Australia due to our unique 'Handwritten Card Service' (see below for further details).
Average order value is currently around £10, however we have significant return purchaser rate, with many of our regular customers purchasing every month – we are clearly in an industry where most people have a revolving need for our products...all supported by our great Customer Loyalty scheme
Product return rates are virtually nil
Why our customers shop with us
Unique products – often not seen anywhere else – and certainly not such a great range all in one place
Our specialism in humour ranges is becoming well known – customers know they will find something suitable from us. There's also some pretty hard-hitting and edgy stuff which keeps people coming back time and time again!
Our unique Handwritten Card Service. Order a card on the site, tell us what you'd like written in it and who it is to be sent to – and we do all the work. We hand write it out and send using a proper stamp – no printing the card or franking the envelope with this service. All at no extra cost to the buyer. This service is very popular with expats and people living abroad in countries with either unreliable or costly postal services.
Free Delivery on purchases over £25 and extremely good value postage costs on orders under that level
Loyalty scheme increases customer return rates even further as it offers the chance to earn back 10% of what a customer spends - instore or online
Easy to use website with simple navigation and great search functionality
Dynamic web/stock system, so - if it's on the site, it's in stock
Live person telephone support available between 10 & 6 – and email support provided throughout the day with average customer response rate of less than 2 business hours
We're an independent, small business - with big ambitions! We like to keep a close relationship with our customers and the tone of our communications and offerings demonstrates that…even though we are rapidly growing
We have personality – check our activity on all key social media platforms
For fear of repeating ourselves – product, product, product!
This is the only affiliate network that we belong to (and intend to belong to!). We are looking forward to nurturing relationships with our affiliates and growing our relative businesses together – hence the premium commission rate on offer.
Program Commission Tiers
| | |
| --- | --- |
| 1+ sales per month | 12.5% of order value |
| 25+ sales per month | 14% of order value |
| 50+ sales per month | 15% of order value |
| 100+ sales per month | 17.5% of order value |




Program Restrictions
PPC Restrictions: We ask affiliates to please refrain from bidding on the brand name "Creased Cards", "creasedcards.com", or confusingly similar misspellings or derivatives of the word, full or seperations on PPC search engines.


Creased Cards Sample Creative