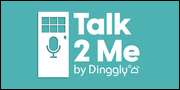 Date joined Paid On Results: 21st November 2022
Affiliate Acceptance: Auto Accept
Cookie Length: 60 Day(s)
Merchant URL: https://dingglytalk2me.com/
We all understand the main benefit of a video doorbell, right? Talking to people at your front door when you're out. It's really useful. A no-brainer. But why have less than 10% of UK homes got one?
Well, it's a bit of a faff isn't it? Drilling, screwing, wiring, charging, configuring WIFI. Landlords may not even allow it. And the choice is bewildering. The best brands are expensive and China Inc. products promise everything for a lot less money but a lot less certainty. Consequently, most of us haven't bothered.
Dinggly Talk2Me is the game-changer.
It's the simplest, cheapest way to talk to people at your home front door, office reception, flat or shared accomodation. It's for the millions upon millions of homes and businesses who 'get' that talking to people at their door is useful, but not to the extent that they do anything about it. Until now.
With a Talk2Me, you just peel the backing off the cool little precision engineered tile, slap it on your door, download the app and you're done.
When a visitor arrives at your door, they just scan it to call you. No phone numbers are exchanged. They don't need an app. And anybody registered to the Talk2Me can answer instead of you. There are even Chat and "I'm coming" functions.
Talk2Me is set to change the look of front doors up and down the country (well, the bit behind where the tile is stuck at least). Priced at one-off payment, inflation-busting £9.99, it's perfectly positioned as a low-risk impulse purchase and, of course, a great little innovative stocking-filler this Christmas.
Talk2Me is brought to you by Dinggly Ltd, a small, entrepreneurial business based in Christchurch, Dorset. The two founders, Ed and Anthony launched the cloud-based paging business in 2015. If you've ever pressed a button to call for service in a luxury hotel or on a superyacht, then Dinggly may well have been behind it. The idea for Talk2Me came from customers asking for speech features with their call buttons, without extra hardware costs.