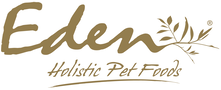 Date joined Paid On Results: 27th September 2019
Affiliate Acceptance: Auto Accept
Cookie Length: 60 Day(s)
Merchant URL: https://edenpetfoods.com/
Product Feed: Yes
Introducing Eden Holistic Pet Foods a producer of premium dog and cat foods based in the UK.
Our goal is simply to provide the finest quality dog and cat food that supports health through nutrition and is aligned to a pets natural food intake. Since our formation in 2011 we have seen considerable year on year growth through the retail of our product range and this has been achieved through very little marketing activity.
We sell mostly within the UK and Europe to both the consumer and trade markets and hope to expand into new territories soon.
Our promises are clear:
Produce only the very best foods possible that are 100% Natural
Never use grains and cereals, animal derivatives, fillers, sweeteners or flavourings in our food
Openly list all ingredients – including the amounts of the main ingredients that our food contains
Use the highest level and quality of ingredients where possible from within the UK
Use the ingredients listed, nothing more, and nothing hidden
Use accurate descriptions and never use misleading information to hide the truth about the contents
Never create misleading packaging with pictures of ingredients that don't represent anything that is inside the package or use jargon to hide the truth about our food
Our loyal customers continue to comment on how much their beloved pets are thriving on our food which is fantastic to hear. We are unique in that we were the first British pet food producer to be awarded a 5-star rating. We pride ourselves on 'above and beyond' customer service and no question is too much trouble for our team.
Sadly, for us our all our hard work will not stop our competitors from overtaking us since they have invested heavily in their respective marketing strategies for which we have fallen behind.
With considerable investment in new I.T systems and an aggressive growth vision, we believe the next phase of that growth requires us to innovate through marketing to promote our brand in a way that our product can then speak for itself.
Part of that strategy relies on you... We need people like you to help promote that message to attract new customers for which we will of course reward a generous commission rate for your services with higher rewards for higher return. We have yet to see the full potential of our marketing efforts and we sincerely hope that we can work with our affiliate partners to grow the brand and our market reach.
We hope this endeavour allows us to educate more and more consumers on why our premium products will give their pet the best possible ingredients on the market and hopefully from that a long and healthy life.
Thank you for taking the time to read this and we sincerely hope to welcome you onboard as an affiliate partner.
The Eden Team
Program Commission Tiers
| | |
| --- | --- |
| £1+ sales value per month | 10% of order value |
| £1000.00+ sales value per month | 12% of order value |
| £5000.00+ sales value per month | 15% of order value |




Program Restrictions
PPC Restrictions: We ask affiliates to please refrain from bidding on the brand name "Eden Holistic Pet Foods", "edenpetfoods.com", or confusingly similar misspellings or derivatives of the word, full or seperations on PPC search engines.


Eden Holistic Pet Foods Sample Creative