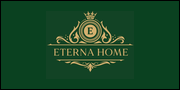 Date joined Paid On Results: 17th November 2021
Affiliate Acceptance: Merchant Approval
Cookie Length: 30 Day(s)
Merchant URL: https://www.eternahome.co.uk/
Product Feed: Yes
At Eterna Home we only stock the highest quality furniture, gifts and accessories for the home and garden made from high quality materials . We have a choice of ranges from traditional to contemporary, right up to the more unique.
We have everything to suit all tastes and fit perfectly with any home decor.
Our customers regularly buy full furniture sets, Complete kitchens, Full garden sets or matching bedroom items, lots of sales over £2000.
We offer easy payment systems Paypal, Klarna, Credit card & finance with maximum acceptance rates. We have price ranges to suit every budget with all of our furniture 100% satisfaction is guaranteed, we never cut corners on quality.
Eterna Home are proud to be one of the leading home stores, all of our products are either designed or sourced directly by ourselves and whether you are looking for something for the Kitchen, living room to the office, dining room, bedroom, hall or garden we have your needs covered.
Our target market is high net worth customers down to young professionals with disposable income.
We have a HUGE range of products in stock & we offer fantastic affiliate opportunities and an excellent commission package with a 10% commission rate.
Great incentives, average sale value £553 and a 2% conversion rate on average.
Exceptional Indoor And Outdoor Furniture.
High-Value items = High commissions
Average sale Value £553
A conversion rate of approximately 2% (on average)
10% commission rate
Very low returns, great customer service
Product Feed available