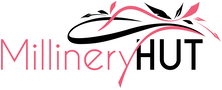 Date joined Paid On Results: 11th May 2021
Affiliate Acceptance: Auto Accept
Cookie Length: 30 Day(s)
Merchant URL: https://millineryhut.com/
Product Feed: Yes
MillineryHUT was created with a very simple goal…
We want to bring the very best in Millinery available online, for you to look, decide and buy, only from the very best designers from around the world
For so long Milliner's have been limited to selling locally to walk-in customers, or on mass product platforms like Etsy. Millinery deserves more, so we created MillineryHUT
Milliners are incredibly talented artists, using the very best in natural materials to design and hand-make stunning headwear. The public needs to be able to see them and buy them!
Whether you are looking for a hat for a wedding, a night out, going to the races, or a Royal Garden Party, you want choice. You want wonderful designs. You want to buy locally, from professional head-wear designers, knowing what you're buying is the best quality available, not a cheap mass-produced import.
MillineryHUT is the website that brings amazing Milliners from around the world direct to your front door.
Handmade quality headwear is delivered directly to you from the Milliner and all items carry a 14-day return policy.
MillineryHUT Sample Creative