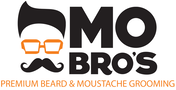 Date joined Paid On Results: 16th May 2018
Affiliate Acceptance: Merchant Approval
Cookie Length: 14 Day(s)
Merchant URL: https://www.mobros.co.uk/
Product Feed: Yes
Mo Bro's was founded in 2014 by three bearded brothers looking to transform the men's grooming market.
The company was brought together when the brothers discovered there was a gap in the market and a shortage of suitable beard and moustache products available for them to choose from. Whilst producing their products, an emphasis was placed upon the quality and affordability of their balms, oils and waxes, enabling them to create a strong brand that was set to go from strength to strength within the market.
Since 2014, the company has gone from strength to strength, and has helped over 250,000 bearded men and has progressed from a solely e-commerce business, to a company that is well known and trusted throughout the high streets of the UK, both through trade and retail outlets. Mo Bro's is committed to providing outstanding customer service and seeks to promote their passionate attitude towards the market that has cemented their place at the top of the men's grooming sector.
Mo Bro's Founders' story
It was November 2014...
Who knew back then that a challenge to grow a mo for charity would lead to one of the most entrepreneurial success stories in facial grooming? That's exactly how this story begins. Meet Keval, Kunal and Savan - the Mo Bro's: a team of three brothers competing to grow facial hair for Movember.
However, it wasn't long before their names changed to Itchy, Patchy and Scratchy as they realised this wasn't an easy challenge. Keval's beard grew wild and thick and needed taming. Kunal's beard was uncomfortably itchy as the hair began to grow and Savan's beard was growing fast, but frustratingly, only in patches.
The bro's needed help and fast…
Very few products were on the market that could tailor to their needs. They searched the land and web for high-quality grooming companies at affordable prices. Ones that not only sold them a winning formula but one that gave them grooming advice step-by-step as they grew their beards. But there was no-one to turn to and no big brother out there to hold their hand. So, the brothers decided to create their own remedies and began sourcing ingredients to cure their problems.
And in 2014 Mo Bro's was born
The brotherhood of grooming opened its doors to welcome in its bearded bros and help them solve their bearded problems with British ingredients (swapping a stiff upper lip for a fun facial grooming routine).
Going global…
Since that fateful day the Mo Bro's have helped over 250,000 bearded brothers across the globe, delivering their products to over 78 different countries– leaving no stone unturned in their quest to help bros (like you) grow a better beard. They've created high-quality products for everyday use at affordable prices. They're dedicated to sourcing the best ingredients wherever possible that are natural, ethical, from sustainable sources, and most importantly that care for your skin as well as your hair.
Grow your own style
Mo Bro's haven't just changed the face of the grooming industry – they've injected fun, with a capital F, back into facial hair. They understand that a beard is more than just facial fashion. It's a statement of personal style. Mo Bro's help separate men from boys – offering you a daily pamper – the manly way. They want you to be proud of your beard at every stage of its growth.
Mo Bro's Sample Creative