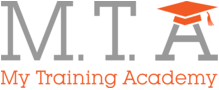 Date joined Paid On Results: 10th November 2021
Affiliate Acceptance: Auto Accept
Cookie Length: 60 Day(s)
Merchant URL: https://mytrainingacademy.org.uk/
Product Feed: Yes
My Training Academy is a UK-based training provider. We provide high quality online training courses to individuals and organisations around the world.
We offer over 350 online courses across a wide range of subjects, such as IT, DevOps, Compliance, Cyber Security, Project Management, Health & Safety, and Hospitality, to name a few.
We pride ourselves on our ability to deliver great value e-learning, backed with outstanding success rates. We provide comprehensive, effective, and engaging training created by subject matter experts with practical, real-word experience.
Our courses are upgraded regularly to ensure our learners are up to date with the latest industry requirements and best practices.
Virtually anyone with internet connection and a commitment to self-development through learning can come to My Training Academy, master a skill, and pursue a rewarding career.
So, if your website traffic includes individuals or businesses who might be interested in our courses, point them in our direction. We pay you for every new customer that enrols on our courses.
Here is a full list of our course categories:
Adobe courses
Blockchain Courses
Cisco Courses
CompTIA Courses
Cloud Computing Courses
Cyber Security Courses
CPD Courses
DevOps Courses
Health and Safety Courses
Health and Social Care Courses
Hospitality Courses
Microsoft Courses
Miscellaneous
Office Skills Courses
Oracle Courses
Web Design Courses
The e-learning within the Hospitality, Health & Safety, Health and Social Care and Compliance course categories are certified by CPD, with many endorsed by the Institute of Hospitality and BIIAB.
Why join My Training Academy's Affiliate Program?
We offer over 350 online courses across a wide range of subjects.
We provide you with all the marketing materials, such as affiliate banners and links to promote on your website, blog, forums or social media profiles.
Optimised landing pages to maximise the conversion rate from the traffic you send us.
Up-to-date product feed with high quality images.
Cookie prioritisation of your affiliate source for fair attribution of sales.
We pay 20% commission for every new customer that enrols on our course.
Please note: we don't pay commission on exam vouchers.