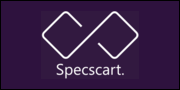 Date joined Paid On Results: 28th May 2020
Affiliate Acceptance: Auto Accept
Cookie Length: 60 Day(s)
Merchant URL: http://specscart.co.uk/
Specscart is one of the fastest-growing eyewear startups in the UK that is on a mission to change the way people perceive eyeglasses. Specscart is also the winner of The Albert Gubay 2017 and Venture Further-2018 business start-up award.

Specscart offers highest quality eyewear at the fraction of high-street prices, the startup is able to achieve this through its no-middlemen supply chain. Specscart also sets a standard for UK businesses as all Specscart glasses are crafted in-house in its Manchester based state-of the art glazing laboratory. In-house production gave birth to Specscart Rocket - 24 hour dispatch of prescription glasses making Specscart extremely fast in the eyewear market. We want to transform the idea of wearing glasses not only for just sight correction but also as a fast fashion accessory that is changed with every attire, occasion, and work.

Designer Brands

Specscart caters the market through its highest quality flagship British eyewear brand i.e. Tom Archer and it also features a French brand called Mark Fabien for women. The business also retails designer labels such as Calvin Klein, Salvatore Ferragamo, Ted Baker and Hackett at unbeatable prices.

What makes us different?

Fastest Delivery - Glasses ordered at Specscart are available for a 24Hr Dispatch.
Unbeatable Prices - You'll find hundreds of quality glasses crafted with lenses in the UK at the best prices.
All In Coatings - Necessities should be complementary and so, all our lenses are fully loaded with free Anti-Glare, Anti-Scratch, Anti-UV and Impact-Resistant coatings.
High Quality and Sustainable - Our frames are handcrafted with environmentally friendly substances like acetate that's extracted from plants cellulose.
Free Home trial - When in doubt, try up to 4 frames for up to 7 days with free shipping. Find the one you love, if not try some more for absolutely free of cost. Keep 'em coming.
Retail Stores - Specscart retail stores are in Walkden and Bury that allows our customers to get a personalised experience. More countrywide retail openings to follow.

Free Home Trial for 7 Days

Free Home Try-On - Up to 4 frames, 7 days direct to your home.

Specscart offers free home trial service for everyone to see and, most importantly, test these latest designs at the comfort of your home for a whole week. We encourage you to wear them, flaunt around and ask opinions from your friends and family. Settle on the one you love, if not try more until you find the one.

Unbeatable Price - No extra charge for protective Add-ons

"We believe in the care for details that makes glasses worth buying as many times as you can."

Glasses and lenses at Specscart are fully loaded with free add-ons like anti-glare, anti-UV, anti-scratch and impact resistance. Not only our glasses are made with high-quality material, but they are highly affordable and lower in cost.

24 Hours Dispatch - Redefine the meaning of fast delivery

Fast isn't fast enough if you don't get your glasses within 24 hours.

Specscart delivers glasses in 24 hours. We believe that consumers get the best feeling when they experience the virtual reality delivered at their doorsteps in a few hours. The excitement of trying something new is captured brilliantly in these instant hours.

Lens and Coating - From eye correction to Blue light Protection, we got it all

"Coating that makes your glasses sturdy, durable, and offers blockage of 99.9% of harmful UV rays is an immense need."

We provide lenses for every type of sight correction and protection like single vision, varifocals, blue light glasses and sunglasses. You can select the type of lenses and coatings you prefer like tints, transition, blue light filter however all the essential coatings like anti-glare, anti-scratch, anti-UV and impact resistance are already fully loaded with each and every lens. Based on your prescription, go for the thickness of the lenses into basic, thin and ultra-thin.

Worldwide Free Shipping

"To avoid people from feeling ripped off, we got rid of charges that's not customary and seem pretty unusually high."

People hate to pay for shipping charges. The shopping experience becomes resentful at the end when the total actual order is different at the checkout.

At Specscart, you receive free shipment with the glasses you buy without any increased charges. Why make consumers pay extra when all you desire is to provide efficiency and affordability?

Returns - No Question Asked Policy

"Customer satisfaction is what encourages us to keep going. However, if you are not happy with the glasses, you can return them and receive the refund."

Specscart provides a 30 days return policy that gives consumers a sense of assurance of reliability and security. With reliable refunds, we offer an environment where a customer can set their guard down and shop with absolute trust with us. Hence if you, for some reason, don't like our products, you can return it for the full value of what you paid for it.
Specscart Sample Creative