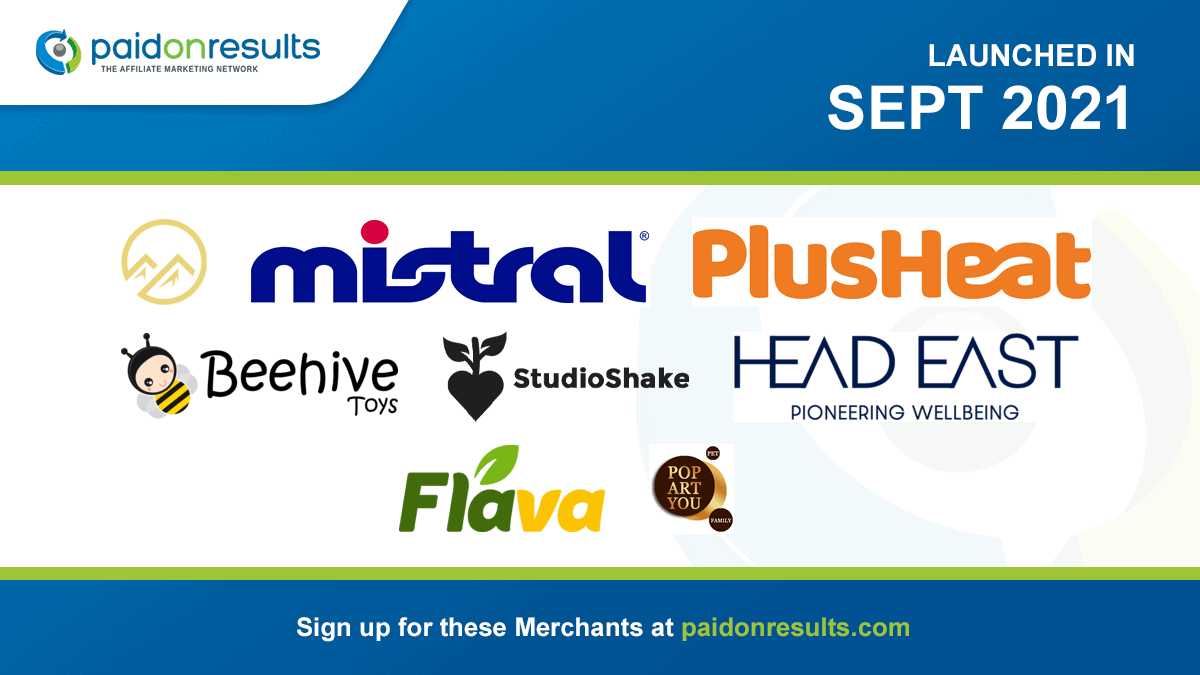 The following merchants went live in September. Paid On Results is only getting better with more innovative tools and features! Sign up now to become an affiliate for these merchants!
Everest Beds
Everest beds, is a one stop shop for all your bedroom needs, mattresses, bed frames, divan beds, ottoman beds, 
We provide all your bedroom  needs we offer 100+ colours whereas other companies do not, we offer a 2-7 working day delivery system, quick efficient cheap beds.
We pay 11% of the sale to affliates and these quick selling products are a must for an affliate looking to make some decent buck. 
Mistral Watersports
Mistral Watersports is one of the most famous names in the world of watersports. Established in 1976 in Bassersdorf near Zurich (Switzerland), by 1986 Mistral gained an international reputation which remains the envy of the industry. Today it's amongst the largest suppliers of inflatable stand up paddle boards and related sports and ranks still as the world's most prestigious water sports lifestyle company.
PopArtYou
At PopArtYou, we are offering Custom Royal Portraits of you, your family and your pets. Our key advantages are: Fast and FREE shipping on all orders, Premium Quality, Unlimited edits till the customer 100% satisfied with the design.
PlusHeat
PlusHeat offers extensive home emergency cover, which covers the whole of the UK.
Why work with PlusHeat
Our prices are some of the best for value within this sector and our customer service is exceptional. We are rated Excellent on Trustpilot – Check what our customers have to say about us on Trustpilot.
We offer different levels of home emergency plans to meet the needs and requirements of our target market. In turn, this will allow you flexibility in upselling and down selling to secure the sale.
We provide a valuable and competitive alternative to large boiler insurance providers such as British Gas and Corgi.
PlusHeat provides Homeowners & Landlords throughout the whole of the United Kingdom home emergency cover to protect their property against unexpected maintenance issues.
Beehive Toys
At Beehive Toys we are proud to offer customers a uniquely designed range of toys that both children and parents will fall in love with.  Founded in 2016 in the United Kingdom, the company has grown quickly and now has an established, hard-working team dedicated to providing high-quality toys and unrivalled customer service.
Head East
At Head East we produce high quality, sustainably sourced vitamins and probiotics that promote physical and mental wellbeing. Founded by the directors of Abercore (a British company specialising in sourcing high quality ingredients), our aim is to harness the power of nature and deliver the benefits of modern science.
StudioShake
StuidoShake provides quality lifestyle essentials for buyers with a range of interests. Currently spanning across Technology, Beauty and Health, we have a selection of products that make a noted difference in users' lifestyles.
Flava Buy Now Pay Later Supermarket
The groundbreaking Flava.co.uk is the UK's first and only buy now pay later online supermarket, requiring no credit check, helping people around the UK to enjoy their favorite branded ambient groceries, delivered directly to their door since 2019.
Whether looking to fill up the store cupboards, or buy some additional tasty treats, it couldn't be easier with Flava, as all our customers are offered a guaranteed credit line to spend on any of the delicious goods on Flava.co.uk.
Be an affiliate of these Merchants who went live and join them through this link: UK Affiliate Programs – Paid On Results