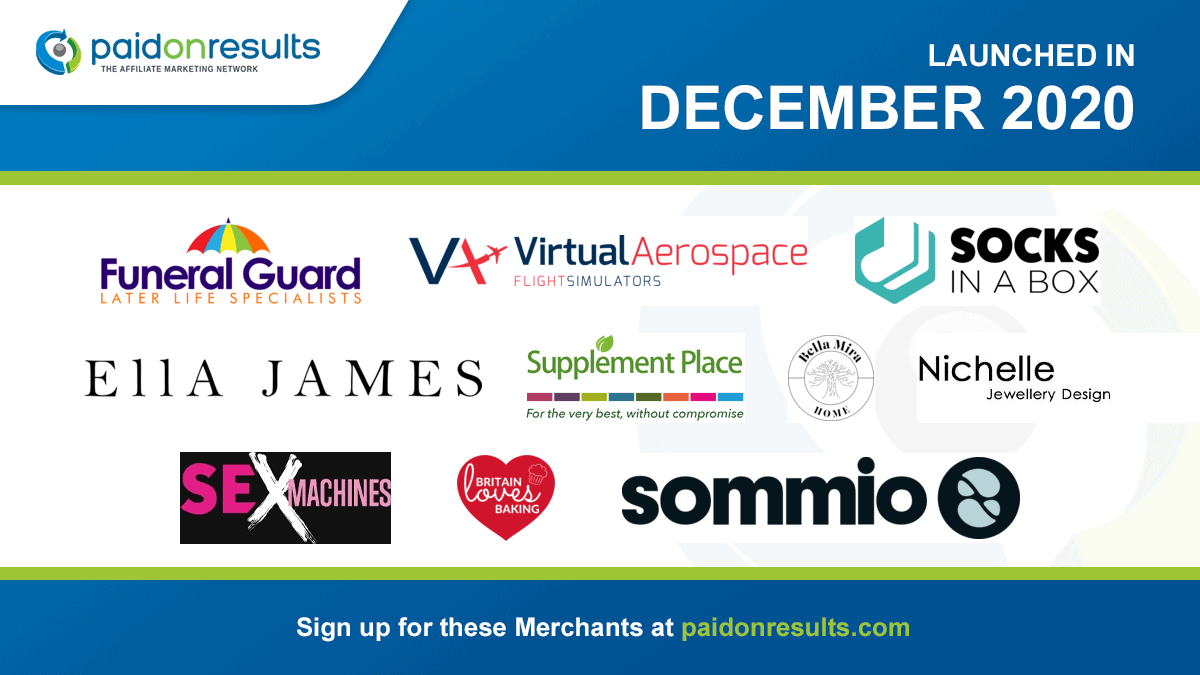 For a very low monthly network usage charge, merchants who pick Paid On Results as their Affiliate Network can have access to the top UK Affiliates. On all subsequent transactions generated by an Affiliate, all clicks are recorded and commission paid. The payment processing of Affiliate Invoices is done by Paid On Results. For this time-saving purpose alone, many merchants have switched away from in-house affiliate marketing services. here are some of the merchants who went live this December.
Funeral Guard
Secure Funeral Solutions Ltd founded in 2015 has grown to become the largest independent broker in the UK specialising in Prepaid Funeral Plans.

Typically we will handle around 25000 enquiries every month and help around 2000 customers plan their personal funeral.

We pride ourselves on our customer service and are recognised with a 5 star service review rating on Trustpilot.

We advise clients throughout the UK from our Head office in Sheffield and partner with the key funeral plan providers in the UK including Dignity, Coop, Pure Cremation and Safehands.

Providing the best advice to consumers on this important topic, our skill and reputation for both the quality of what we do and the quality of how we look after our staff is well known.
Virtual Aerospace
We offer fixed base simulator experiences in a choice of simulators. The first is the 737 800 Passenger Jet Airliner. We give people fresh to aviation a fantastic experience to know what it is like to be captain of this 189 passenger jet airliner. Although the simulator doesn't move people are convinced it does as we use visual trickery and sound effects to fool them.
Socks In A Box
We offer an engaging selection of high-quality socks, for men and women with products designed to suit a variety of occasions and gift recipients. The majority of our recurring plan customers are men, whilst around 60% of the customers buying gift subscriptions are women, more often than not buying for men. Our customer base is broad and is growing every month.
Ella James
Ella James offers a curated collection of Home and Garden accessories targeted at a design conscious customer seeking luxury products which will reflect their personality and make a statement in their home.
Supplement Place
Supplement Place is a family run business based in beautiful Devon that has been operating for 15 plus years. We have the Directors; husband and wife, Colin and Susan (who are gradually trying to retire), their two daughters Holly – Product & Development Manager, Sophie – Office Manager and Sophie's fiancée Byron – Warehouse Manager.
Bella Mira
Welcome to the Bella Mira Home Affiliate program.
We are a small family run business set in 2015 from our home in Ealing.
With ethically sourced products for home and garden to elegant jewellery and kids gadgets the brand focuses on everything small and beautiful.
We really pride ourselves not only on the variety of choice available within our store, but also on the level of customer service we have to offer.
All products have 90 day returns and a 2 Year Warranty.
Nichelle Jewellery
Designer Jewellery by Nichelle 
Nichelle Jewellery Design is a designer jewellery brand that specialises in unique, modern, and stylish jewellery for all occasions. Nichelle's products are suitable for both men and women and our collections boast's designer jewellery items made from Sterling Silver, 9ct Gold, Rose Gold Titanium, Steel, Tungsten and Fine Leather.
Sex Machines
We are very excited to be able to  fantastic range of products to our affiliate partners. Sexmachines.co.uk Is the longest established Sex Machine supplier in Europe.
We have a range of over 40 quality sex machines.  We are also the exclusive European supplier for more than 10 machines, Including the exclusive Tango TW 11 sex machine.
We also manufacture our own brands of Sex Machines – 
Willie Wanka 
Willie Wanka Pro
Blue Balls XL
Blue Balls XL2 
uFuc 
These are exclusive  to Sex Machines, and are considered gold standard machines within the industry.
Britain Loves Baking
Britain Loves Baking ™  takes all the fuss out of finding that perfect bread or cake recipe – and then the hassle of sourcing all the ingredients. We offer a selection of baking boxes created by our very own Greg The Baker, ranging from a '3 Recipe Tasting Box' – ideal for those new to baking, to a chocalicious 'Chocolate Taster Box' crammed full of indulgent chocolate bakes. All our ingredients are of the very finest quality and the recipe instructions are easy to follow. So you don't need to worry if you can't tell the difference between folding, mixing and creaming!
Sommio
Sommio is a family run business with a strong emphasis on great products and customer experience. Our weighted blankets are made in Europe, without compromise on quality.
We provide fast customer service with free shipping and 30 days returns to customers to ensure they feel comfortable in the buying experience.
Our ecommerce store uses the latest web technology; with near instant load times and easy navigation so customers can navigate and purchase without frustration.
What are you waiting for?
Take the first step now, you can join them through this link:
https://www.paidonresults.com/merchants/all-merchants.html