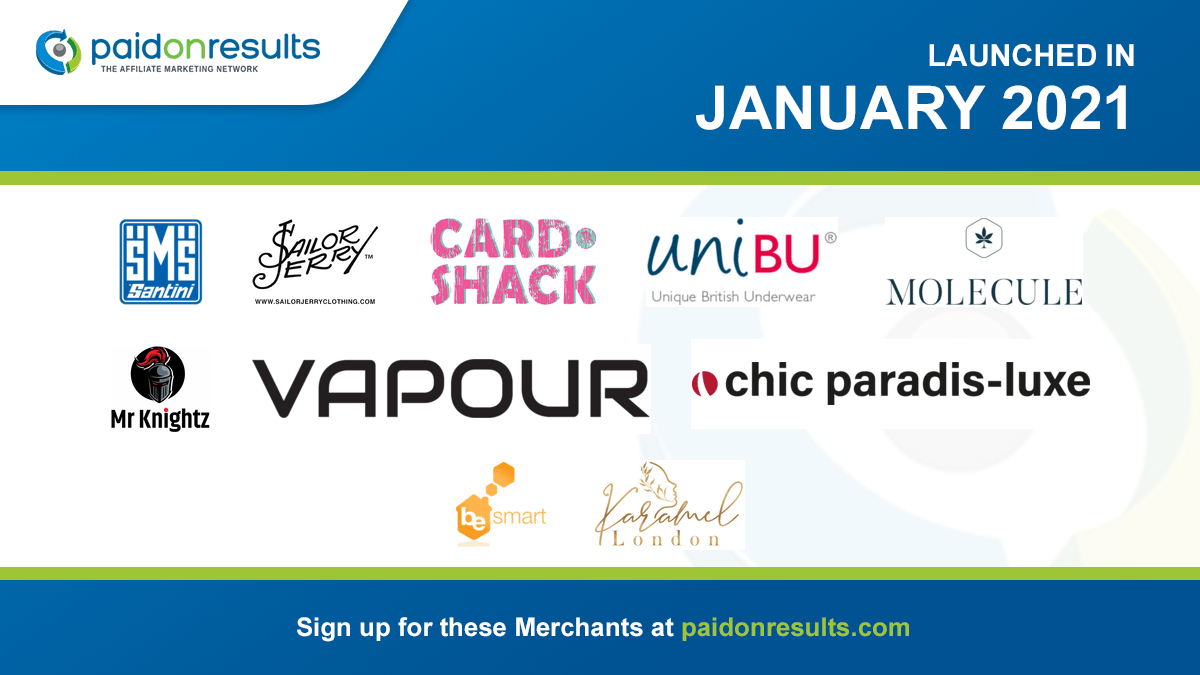 Here are the merchants that went live in January. Paid On Results, with more advanced reporting and tools, is only growing better and stronger. So, what are you forced to wait for? Join now and be an affiliate of these merchants who went live in January.
SantiniSMS UK
Santini are a well renowned brand in the market, such that multiple World Tour teams ride in their kit. Santini also have the contract with the UCI to manufacture the World Champions Jersey, the Rainbow Jersey, across all disciplines.
This is a high-end product at a premium price. Sales at both full price and clearance will generate money for your business. As a desirable brand, sales will come in the right market locations. With more shop stockists and a lower online market there is less affiliate activity from other portals to compete with.
Sailor Jerry Clothing
Sailor Jerry Clothing is the only online store you'll find official Sailor Jerry branded designs. Sailor Jerry is a fun, outgoing, awesome brand that sells tattoo inspired clothing and accessories to old school tattoo lovers worldwide. The more you throw your true self into this brand, the more fun you'll have, and the more you'll succeed. That's the way this whole damn thing is designed. So, we invite you to go all in and enjoy the ride.
Card Shack
We are not the average card shop. I mean you can see what we are all about on our website www.cardshack.co.uk. We have a huge selection of funny, rude, arty and witty cards suitable for all occasions.  
Our Cards are targeted at an Adult Audience, we do have a few cards suitable for kids. But our main focus is at adults who enjoy a good laugh and want to deliver a true smile to their loved ones. Even if they are insulting them at the same time!
Unibu
Unibu offers a range of quality boxers, trunks and briefs for men, and thongs, hipsters and shorts for women, our styles come in a variety of colours and sizes allowing you to find your perfect look and fit.
Ideal for the 21st-century man and woman, our styles provide all the support that you need to get you through the day while making you feel confident and comfortable too.
Molecule
We're Molecule, a premium and trusted CBD retailer. We source the finest CBD products that are organic and ethically produced – we triple batch test all of our products, meaning that the quality is the best it can be and consumers can experience the full benefits of CBD from a trusted source.
Mr Knightz
Here at Mr Knightz we sell an ever growing range of Adult products, clothing and accessories.
We pride ourselves on discretion, quality and choice with the latest products available on the market. 
We are fast!
We dont hesitate to put the customer first at all times.
We dont take days to reply to customer concerns, they are dealt with there and then!
Our returns rate is under 2% of all sales! Thats from honesty, fast responses and quality of goods!
Vapour
Vapour (formerly Vapourlites) is a long established, well respected and trusted vaping brand. Established in 2011 Vapour still has customers loyal to the brand from day one – with over 10 million orders shipped, worldwide.
Vapour started life with Gen 1 cig-a-like products. Then morphed into hardware and e-liquids, developing many iterations of devices/e-liquids over the following years, as the industry developed.
Chic Paradis
Chic Paradis is an online home department store dedicated to sourcing luxury products for elegant living. There is a diverse selection of furniture and home accessories that offer a world of interior design inspiration. From modern high gloss Italian furniture to rustic artisan style furniture you will find everything you need and can feel confident that it has been carefully selected for its style and quality.
Chic provide gorgeous luxurious furniture at affordable prices, every home should and can now look beautiful.
BeSmart
BeSmart is an energetic fun-loving company filled with technical wizards, innovative creative thinkers, customer eccentric advocates, sales professionals and old hat industry experts. We're growing fast, pushing boundaries, developing new products and all while focusing on ensuring our customers are happy as they possibly could be.

BeSmart is a one-stop-shop for home and car products in the UK and is rapidly expanding through partnerships with some great brands in the UK and Europe.
Karamel London
Karamel London offers a carefully designed approach to skincare and the art of beauty as we believe in empowering women through our products. Our demographic is both women and men, of ALL ages!
There is something for everyone at Karamel London, our customers include both teenagers and mature women in their prime, and those living their beautiful lives over 60+. We support the idea that men can wear makeup too if it pleases them!
What are you waiting for? Be an affiliate of these Merchants who went live and join them through this link: UK Affiliate Programs – Paid On Results