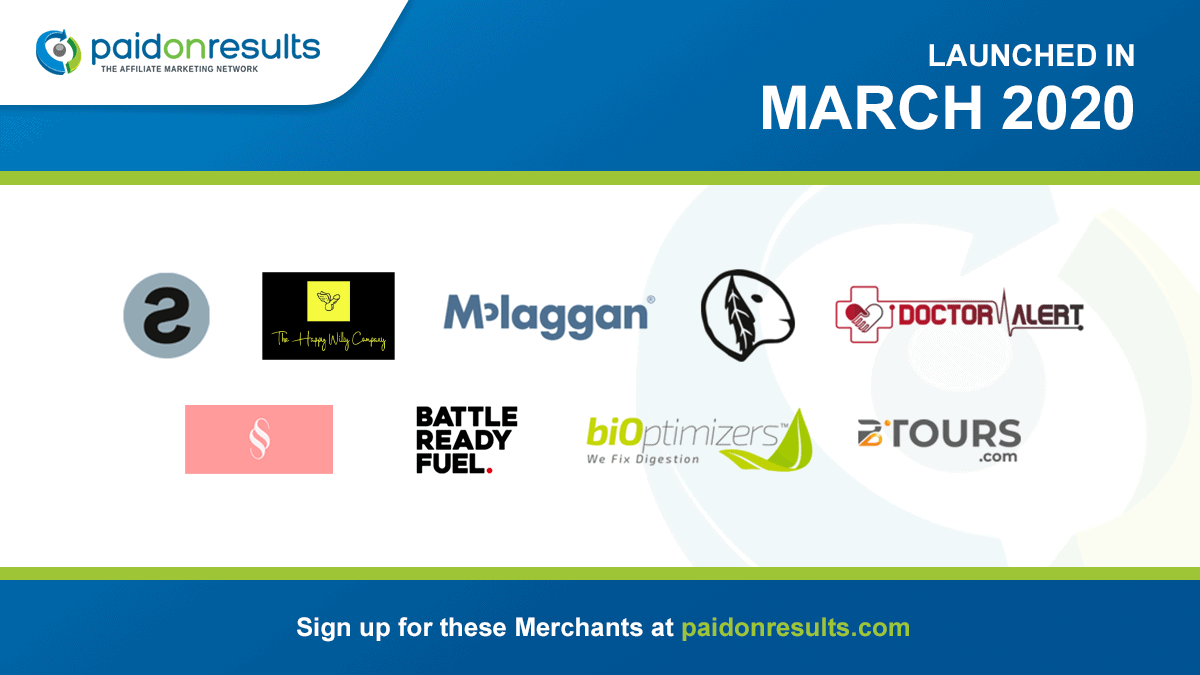 Pay 
On 
Results 
offers 
quick 
links 
to 
retailer 
services 
and 
automated 
innovative 
updates,
with 
industry's 
quickest 
payment 
times!
What
are 
you 
waiting 
for, 
then? 
Join 
now 
and 
become 
an 
affiliate
of 
these
merchants 
who 
went live in March
.
BTOURS.COM
BTOURS.COM is a dynamic, customer-focused online travel agency providing both memorable holidays plus the best deals on hotels in the marketplace. We're passionate about travel in the Mediterranean. Sit back, browse, tailor-make and organise your perfect itinerary, your dream trip.
Snide London
Snide's design philosophy is traditional British with a sense of modern style and humour mixed in. The finest finishes and fabrics with an extra dash of mischief, combined with our commitment to the environment, make Snide the ideal brand for the modern man.

Our tag line is Never Knowingly Right (with apologies to John Lewis) and the designs all feature a small, very subtle mistake. These mistakes, although often not nearly as understated, can appear in fake goods as their manufacturers are not au fait with the English language or Western culture.
Battle Ready Fuel
Battle Ready Fuel is a range of supplements and snacks launched in 2017 by Ollie Ollerton, star of SAS: Who Dares Wins. 
The range was created to fuel the mind and body, following Ollie's philosophy that "If you're not mentally prepared, you're not physically ready".
Opera Campi
Opera Campi is an Italian clothing brand with a unique focus on sustainability and innovation. We started our Journey in 2017 with the belief that hemp represents the future of the fashion industry. It is the most performing natural fabric: it's anti-microbial, it has the highest grade of thermo-regulation and breathability, making the most season-versatile fabric. It's extremely ecological because it's not just less polluting than any other natural fibre, but it's also pro-active against climate change, purifying the air from CO2 in large quantities.

Our technological innovation, at the forefront of bio-tech fabrics, gave birth to the first ever stretchy Hemp, with a record-breaking 92% fresh Hemp composition. All of this was made possible by our strong roots into the Italian manufacturing tradition and the its secular legacy. We are merging the best of yesterday with the dream of tomorrow.
The Happy Willy Company
The Happy Willy Company, the number one source for all things related to sex and fun. We're committed to giving our customers the very best of sex toys, with a focus on quality, fun and pleasure. We strive to be industrious and innovative, offering our customers something they want, putting their desires at the top of our priority list.
Mclaggan
We are UK market leaders in the printing and decoration of bone china mugs, working with some of the best artists including Orla Kiely, Quentin Blake, Rosie Made A Thing, plus many other established and up and coming creatives. With hundreds of styles, we like to think we have something for everyone and every occasion.
Secret Sins
Secret Sins is an online adult superstore. We pride ourselves on our competitive market position & are proud of our outstandingly low prices compared to other online retailers.
With over 4,000 products available, we stock a range of male & female sex toys, sexy lingerie, bondage gear, lubricants, anal play toys, fantasy costumes & massage/sex oils.
Doctor Alert
Doctor Alert is a diversified health and well-being company, focused on improving people's lives through timely innovations.

Doctor Alert™ is an innovative monitoring device designed for life safety, health, and wellness solutions from Digitex Global Ltd.

The company has developed a device solution to provide consumers with a professionally monitored Emergency Response Service and is committed to providing meaningful innovations that improve the quality of care, enhance patients' lives, and enable the delivery of better outcomes at lower cost. We aspire to transform the healthcare possibilities of tomorrow into the realities of today to meet the needs of patients in hospitals and at home.
BiOptimizers
BiOptimizers has one mission: help humans shift from a sick unhealthy condition into a peak biologically optimized state.  Biologically Optimized Health is a state of existence where all of the body's functions operate in perfect harmony.
Our unique health solutions empower you to achieve an optimal state of well-being in the body, mind, and soul. This allows you to have more energy, feel great and live a better life.
What are you waiting for?
Take the first step now, you can join them through this link:
https://www.paidonresults.com/merchants/all-merchants.html