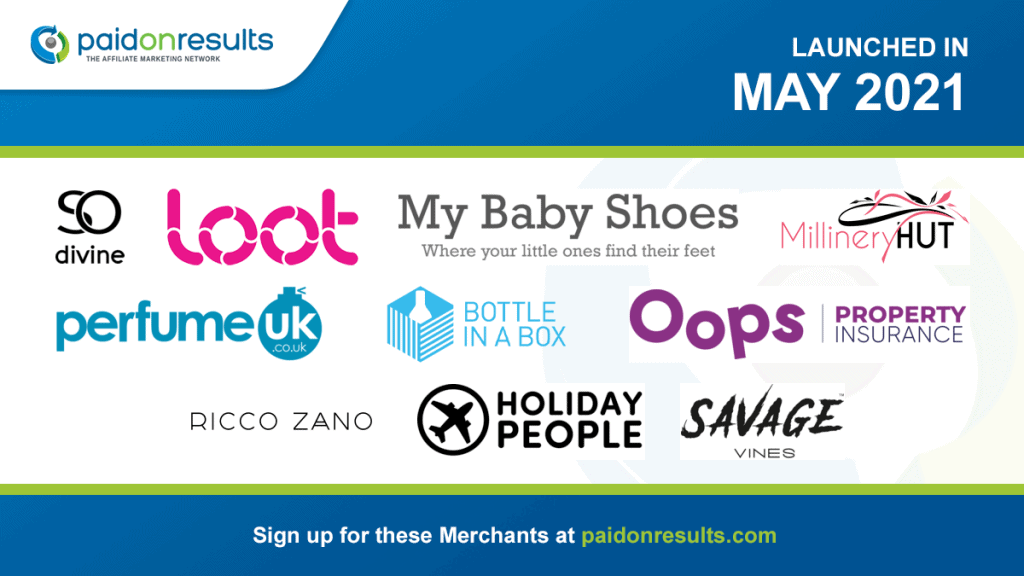 Paid On Results is a low-cost, high-value platform for new and existing merchants to use to increase sales through the Affiliate Marketing channel. You control your costs by setting the commission rate you want to pay Affiliates. Our Network Override and monthly Network Access fees are the most affordable in the business, ensuring that you get the best value for your money. So what are you waiting for? Join these Merchants who went live in May!
So Divine
The So Divine range was born from our belief that sex toys should be fun for all: women, men, straight, gay, couples and singletons – this party is an open house. Forget closed doors and under-the-counter purchases, the secret is out! This is your invitation to claim your right to safe and playful sexual pleasure. We want to make it easy for you to buy the best quality sex toys, so you'll find So Divine in everyday stores, for everyone to enjoy and at a price we can all afford.
Loot Vintage
Our exclusive range of vintage is hand selected from around the world. With over 15 years in fashion and vintage, our Loot team have accumulated more than a little know-how when it comes to tracking down one-off finds…sourced from the most stylish cities in Europe, across the pond in the US, and even iconic pieces from right here in the UK.
Loot was born from a hunger to re-live the 'good' of eras that came before us, and substitute the 'bad' of today's throwaway fashion. Sustainability is more important than ever, and sustainable clothing is the future… and the past. Clothes that have been well-made and looked after – one-off finds that have lived a lifetime before you throw it on.
My Baby Shoes
My Baby Shoes has been around for a short time, but we've already taken the baby footwear market by storm. With a background in both marketing and product sourcing, myself and my partner decided we could create a website which offered great value to customers, while driving high volumes of sales. With thousands of orders processed within just a couple of months, our customers are able to access premium baby shoes, at a low price. Our feedback has been hugely positive, with customers frequently sending in photos of their little ones in our baby shoes.
MillineryHUT
MillineryHUT was created with a very simple goal…
We want to bring the very best in Millinery available online, for you to look, decide and buy, only from the very best designers from around the world
For so long Milliner's have been limited to selling locally to walk-in customers, or on mass product platforms like Etsy. Millinery deserves more, so we created MillineryHUT
Milliners are incredibly talented artists, using the very best in natural materials to design and hand-make stunning headwear. The public needs to be able to see them and buy them!
Perfume UK
PerfumeUK is a specialist perfume retailer based in the UK. We offer a wide selection of aftershaves and perfumes at fantastic prices. Everything on the website is substantially below RRP.

If you are looking for a dedicated and easy to use website specialising in the ever popular gift and beauty purchase, perfume and aftershave and one that gives the best customer experience possible, you are in the right place. At PerfumeUK we take pride in delivering excellent products to our customers, quickly and at the lowest cost possible.
Bottle In A Box
Bottle In A Box is the UK's premier online alcohol gift shop, dedicated to creating the ideal gift experience for both the person giving and receiving the gift. What sets us apart is the wide range of choice, and the ease in choosing that we offer to our customers. We stock a wide selection, over 300 gift sets, of Gin, Wine, Rum, Whisky, Vodka, Beer and Miniature bottles, which are paired with expertly selected mixers and accompaniments, chosen specifically to compliment the main drink in each set.
Oops Insurance
Oops Property Insurance are specialist brokers in the Landlord and Tenant insurance market.
Our aim is to simplify the process and reduce the cost of buying insurance. 
With a combined experience of over 30 years in the insurance market, Oops understands what customers really need to keep them safe and protected. We have partnered with leading insurers to create products that fully protect customers and ensure they are swiftly back on track with a simple and speedy claims process.
Ricco Zano
Ricco Zano is a modern, luxury, lifestyle brand. Specialising in small leather goods such as wallets, card cases, card holders and accessories. With travel accessories and bags arriving in Summer 21.
Our products are suited for the stylish individual looking for luxury leather accessories to meet their daily travel and working needs. Certain products like the OTAVIO coin wallet are perfectly suited for the male genre, although Ricco Zano aims to cater in the unisex market, allowing all genders to enjoy an array of products.
Holiday People
HolidayPeople is a technology first online travel agency that has been created with affiliate marketing very much at the forefront of its marketing plan. 
A quick look at our site – launched to great acclaim within the travel industry in December 2020 – will demonstrate
Unrivalled speed 
Widest range of holidays available
Ease of use – the "Any date/Any departure point /Any destination" search allows customers to filter results  from the top down, rather than the bottom up. Most travel sites require destination and departure point to be specified in the first instance, before a search can be performed.
Our unique "GigaSearch" technology innovation allows the customer to be able to compare multiple destinations simultaneously. 
Full financial protection for the customer – and we all know how important that is in these times!
Zero leakage – no phone numbers displayed means that your our customers stay on the online journey, maximising affiliate commissions
And most importantly, the BEST possible click to sale conversion
Savage Vines
Savage Vines – Your Online Organic and Bio-dynamic Wine Specialists
Savage Vines was founded in 2017 with the aim of supporting small, independent winemakers from around the world and connecting them to wine drinkers in the United Kingdom. We focus on certified organic and bio-dynamic wines and import directly from the vineyard into the United Kingdom. We are a direct to consumer business model which ensures the winemakers get paid fairly and the consumer gets access to unique, high quality and certified organic wines at a great price.
Be an affiliate of these Merchants who went live and join them through this link: UK Affiliate Programs – Paid On Results