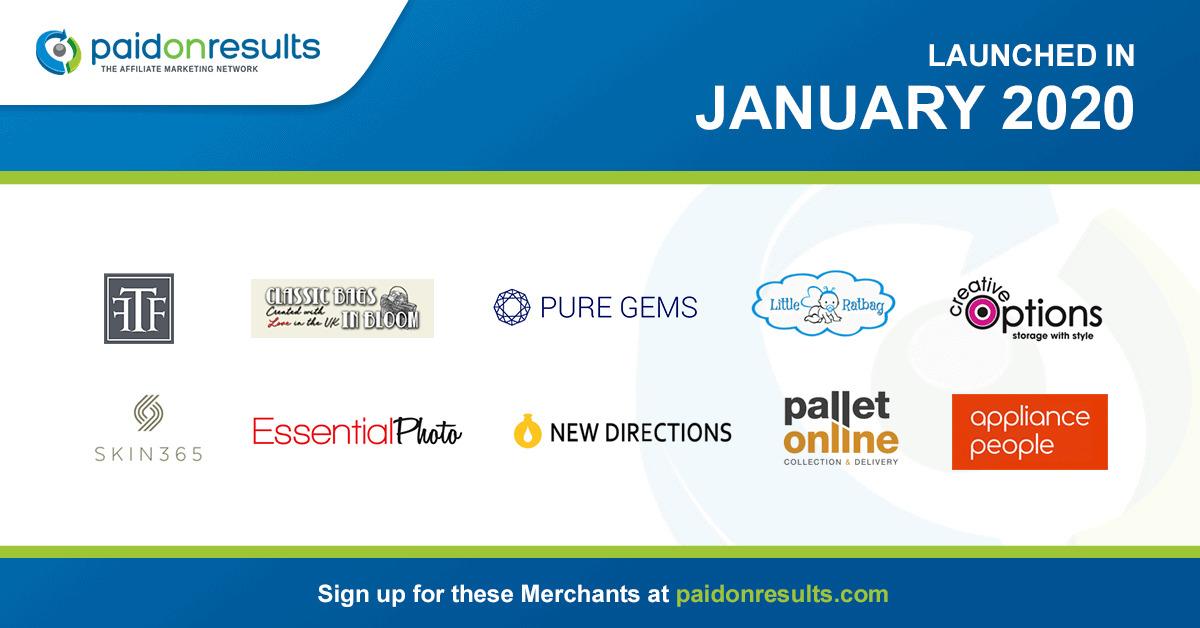 For the beginning of the year 2020, here are the merchants that went live in January. Paid On Results is only getting better and stronger with reporting and tools getting more advanced. So, what are you waiting for? Join now and be an affiliate of these merchants who went live in January.
Back in 2016 we had a vision, contemporary furniture at affordable prices. Since then FirstTimeFurnishings has become one of the most exclusive independent furniture retailers on the web.

Our main focus has always been to supply quality, modern, hardwearing home furnishings at affordable prices.
Classic Bags In Bloom – Vintage Inspired Handbags & Baskets … Created With Love In The UK  x Our range is very exclusive and completely unique … No two are the same … What more could you ask for?
OUR BRAND
Pure Gems is an Online Gemstone Jewellery Brand
Our Target Market is the United Kingdom and Europe
We have established a Reputation of Excellence Globally
Little Ratbag offers unique gifts both personalised and non personalised throughout the UK.  The majority of our items are not available anywhere else.  
We offer baby vests, bibs, bodysuits, t-shirts and many personalised gifts.  
Creative Options UK is a stylish storage solution for your art & craft supplies, makeup and other hobbies. 
We bring colour to storage when organising your home, garage and craft area!
Make tidying up with the kids fun with our variety of different storage solutions. 
We would like to you to join Skin365 as one of our affiliate partners.

Our passion at Skin365 is to focus on introducing clinically proven products to our many loyal customers.

At Skin365 we are an online and live professional resource that customers can access free, 365 days of the year via live chat or phone to a real UK Qualified skincare professional. 
We are specialists in studio lighting equipment and accessories for the digital, film and video industries. We sell a huge range of different studio lighting equipment and accessories including our own award-winning brand, PiXAPRO.
Welcome to New Directions. Bursting with exciting additions and full of great innovative ideas. New Directions is celebrating over 18 years of wholesaling 100% Pure Essential Oils Organic Oils, Ayurvedic, Wellbeing, Raw Materials, Bottles and Packaging to every corner of the world!
Use the number one pallet delivery network for the UK. Average sale value of £100 with a 3% commission, means your commission will quickly mount up! We have been online for 12 years and offer expert customer care to take care of customers sent to us. High retention rate with 60 day cookie policy in your favour. Next day delivery available and much larger order values for deliveries into Europe.
Appliance People have over 60 years' experience amongst our team in selling the very best the kitchen appliance marketplace has to offer. We deal with Rangemaster, Neff, Bosch, Samsung and Fisher & Paykel to name but a few of our leading brands.
What are you waiting for? Take the first step now, you can join them through this link: https://www.paidonresults.com/merchants/all-merchants.html