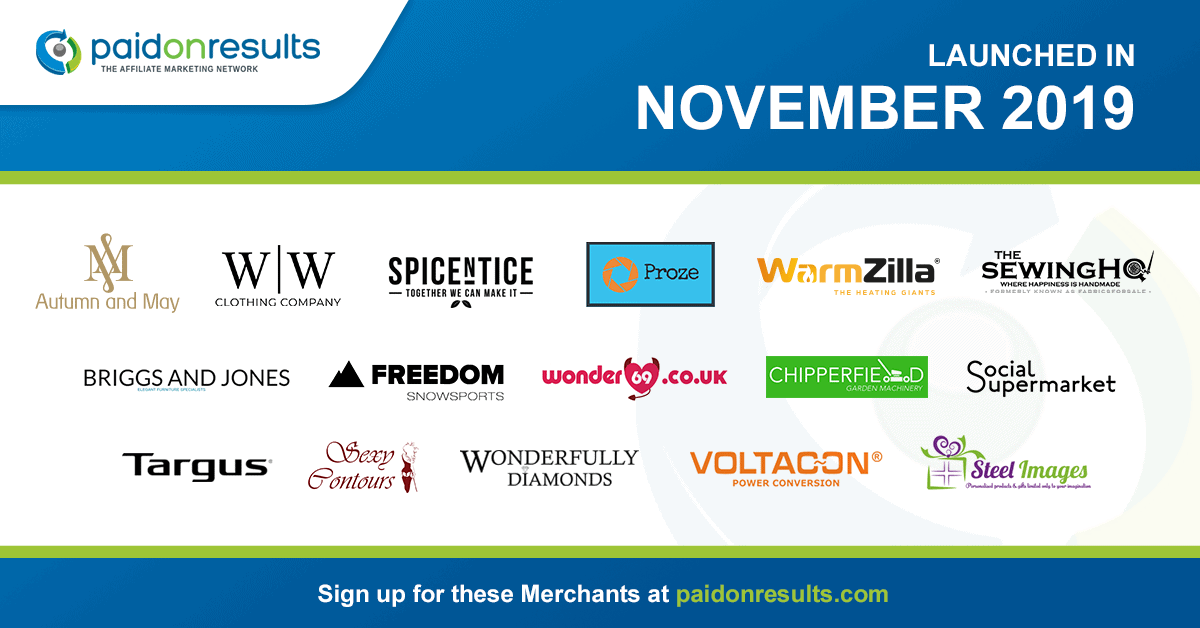 Paid On Results has advanced reporting and tools. Take advantage of it now to get access of UK's Top Affiliates. What are you still looking for? Join them now and be an affiliate of these merchants who went live in  November.
Autumn and May, the contemporary Jewellers in Greenwich, established at the Historical Greenwich Market since early 1990's located right in the middle, moments away from Greenwich Meridian Line, by the banks of River Thames and minute walk from popular tourist destination such as Cutty Sark, Royal Observatory Greenwich Park, Maritime Museums and world-famous Greenwich University.
We are a womens clothing retailer, selling boutique style clothing at extremely affordable prices. The program offers a very attractive 15% commission as standard with an option to increase to 20% dependant on sales.
Our target market is women aged between 20-65 who shop online to buy quality affordable clothing. There are over 200 products listed on our webpage, which include: Dresses, Pants, Tops, Jackets, Shoes, Accessories etc. 
There has never been a better time to make money working with SpiceNtice award winning meal kits, made from 100% pure ingredients.
SpiceNtice makes healthy eating super easy with great products at great prices. With a massive range of over 50 products created for great tasting, healthy meals cooked at home – our kits are perfect for those on a weight loss or fitness journey, as well as those that like to cook delicious meals from scratch.
Proze is a leader in audio, video and mobile accessories. 
Proze Electronics offers high quality products with amazing features. From Dash cams to headphones, phone cases and charging, there is something that will suit your audience, and with free shipping across 27 EU countries and shipping to over 80 countries worldwide and first class customer service, customer satisfaction is guaranteed. 
WarmZilla is the fastest way to purchase a boiler in the UK. It takes less than two minutes to complete our survey and receive an instant fixed price quote on a new boiler with installation.
WarmZilla is here to take the hassle out of purchasing a new boiler. No more salespeople, hidden extras or waiting weeks for a new boiler. We wanted to give people the opportunity to go online and within minutes buy a boiler with installation included and provide customers with the service we knew was lacking from the industry.
TheSewingHQ  (Formerly known as FabricsforSale) is a newly established online premium fabric and quality haberdashery store, providing you with an array of versatile premium fabrics for dressmaking, upholstery and craft projects as well as quality handpicked haberdashery.
Briggs and Jones are a family run business dedicated to sourcing fabulous furniture that makes people smile. Because we are very passionate about what we do, only the nicest furniture is sourced. If at any point there is an issue with a product or we get negative feedback regarding a product the item is removed.  We want you to be confident about the items we sell. 
Freedom Snowsports operate industry leading ski & snowboard schools at multiple resorts in the French Alps. These include Chamonix, Megeve, St Gervais, Les Contamines and have teams of world class coaches, instructors, and mountain guides.
Wonder69.co.uk is the world's most professional place to shop for vibrators and sex toys. Wonder69.co.uk sells a selected group of products. The site is easy to navigate and make a purchase from. This approach has resulted in increased purchase rates and more profits for our affiliates.
Chipperfield Garden Machinery offers a top class servicing and repair facility, plus one of the largest ranges of quality Garden Machinery and accessories; all available from our brand new showroom and workshop located in the attractive village of London Colney just off the M25 motorway.
Social Supermarket was created to connect every-day consumers with social enterprises who sell high quality products that tackle important social and environmental challenges. From handbags made from decommissioned fire hoses, soap made by people with visual impairments or relishes made with wonky fruit and veg, there's something for everyone.
You may recognise our name as one of the world's top-selling laptop bag brands, and that's because over 35 years ago Targus pioneered the original laptop bag.  Ever since we have focused on quality and expertly designed products to meet the needs of the on-the-go professional, whether male or female, style-conscious or functionality-focused.
Sexy Contours are a small business run in Scotland. We pride ourselves in supplying customers with some of the highest quality lingerie, sex toys, and safe sex products currently on the market.
We ensure all products are of the highest standard and give our customers the quality and pleasure they deserve.
We believe that jewellery is a wonderful creation and it should be loved and treasured. A good piece of jewellery will last you a lifetime and when we get old, it tells a story about us and can be passed down as heirlooms. That is exactly what we offer at Wonderfully Diamonds.
Voltacon Solar has an innovative approach to reducing the carbon footprint of its customers, thanks to its commitment to renewable energy and bridging power conversion.
Committed to the design and installation of an on-grid system, Voltacon Solar has successfully installed over 20MW of grid-tied systems throughout Europe since 2002. These on-grid systems have given customers an impressive return on investment (ROI) in less than 5 years, with substantial financial benefits.
Steel images is a family business based in rural Lincolnshire and specialise in the design and manufacture of a range of products plasma cut from sheet steel and then hand finished.  Leading products include hanging brackets, garden planters, coat and key hooks, oval house plaques and hanging house signs, all being able to feature a silhouette image of just about anything you desire!  We have over 100 breeds of dog plus thousands more images.  We even offer free artwork setup for custom images.
Take the first step now, you can join them through this link: https://www.paidonresults.com/merchants/all-merchants.html