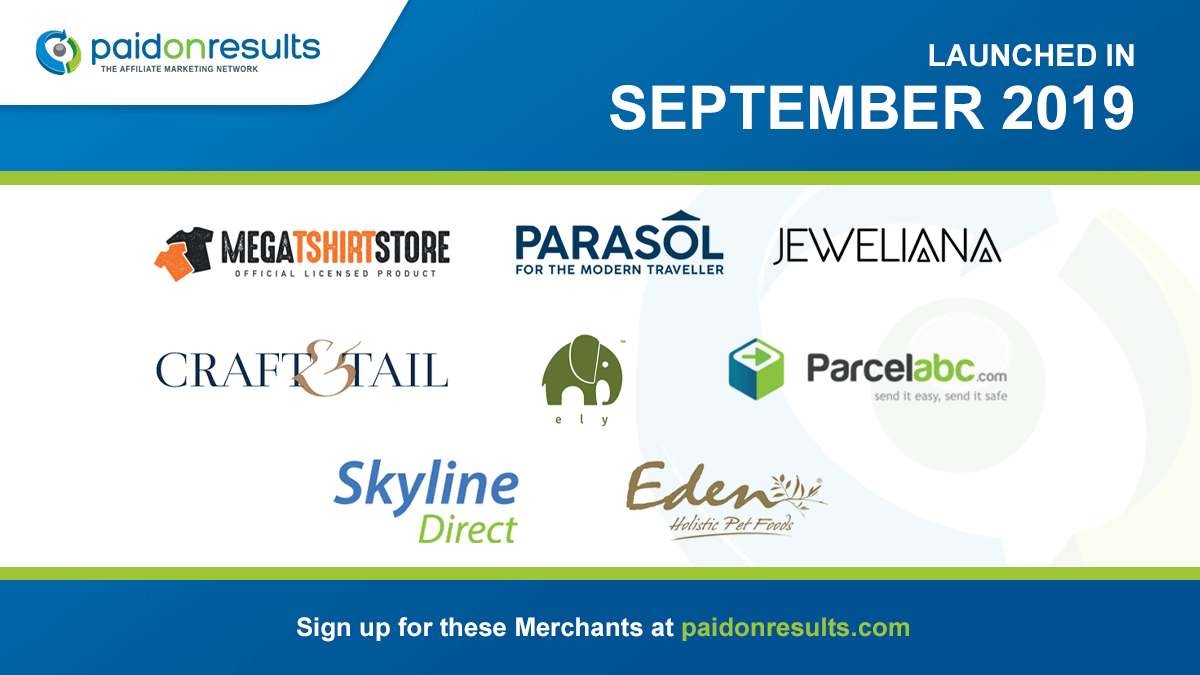 Paid On Results offers one of the lowest fees to assure the best return on investment of any advertising spend in the market now! Looking for more? Join them now and be an affiliate of these merchants who went live in September.
MEGATSHIRTSTORE is your one-stop shop for every comic book, cartoon, character, music, retro film & tv inspired t-shirt, garment and gift. From famous band merch and iconic names including Disney, Marvel, DC Comics, Star Wars and NASA, MEGATSHIRTSTORE provides official licensed clothing at great prices.
Parasol Store was created in 2016 with the aim of creating the UK's first travel focused fashion retailer. Our aim is to strive to become the one stop shop for all of a traveller's needs, stocking a unique range of accessories, clothing, lifestyle and gifting product, all with a travel specific focus.
Skyline Direct is a short term loan company that has been operating in Northern Ireland for 60 years and 12 years in Scotland. They currently operate in all of Northern Ireland and the full central belt of Scotland – Ayrshire, Lanarkshire, Glasgow, Stirlingshire, Lothian, Edinburgh, the Scottish borders and growing.
The ParcelABC platform is an original and innovative solution which creates new rules in the global parcel delivery market. ParcelABC allows you to take advantage of any empty spaces that various couriers and parcel delivery companies might have in their vehicles, and this ensures that even express shipments are delivered safely and at the lowest price.
Ely Mattress launched in February 2019 online and has gone from strength to strength! After being in the manufacturing industry of beds and mattresses for over forty years, they have finally created a brand and found the right sleep solution for everyone.  They wanted to create a handcrafted, high-end luxury natural product but at an affordable price as we believe everyone deserves the best sleep. 
UK based manufacturer who are proud to design and hand-make luxury pet beds from the UK. Having made sofas, chairs and bespoke furniture for years, they thought why they don't apply the same high standard of craftsmanship and upholstery for our furry friends. They are looking for affiliates to sell our unique products and are offering an 8% commission on all orders.
Low prices on authentic designer watches including Michael Kors Emporio Armani and many more brands. Free delivery from a name you can trust – Jeweliana
Eden Holistic Pet Foods a producer of premium dog and cat foods based in the UK. Their goal is simply to provide the finest quality dog and cat food that supports health through nutrition and is aligned to a pets natural food intake. Since their formation in 2011 they have seen considerable year on year growth through the retail of their product range and this has been achieved through very little marketing activity.
Take the first step now, you can join them through this link: https://www.paidonresults.com/merchants/all-merchants.html