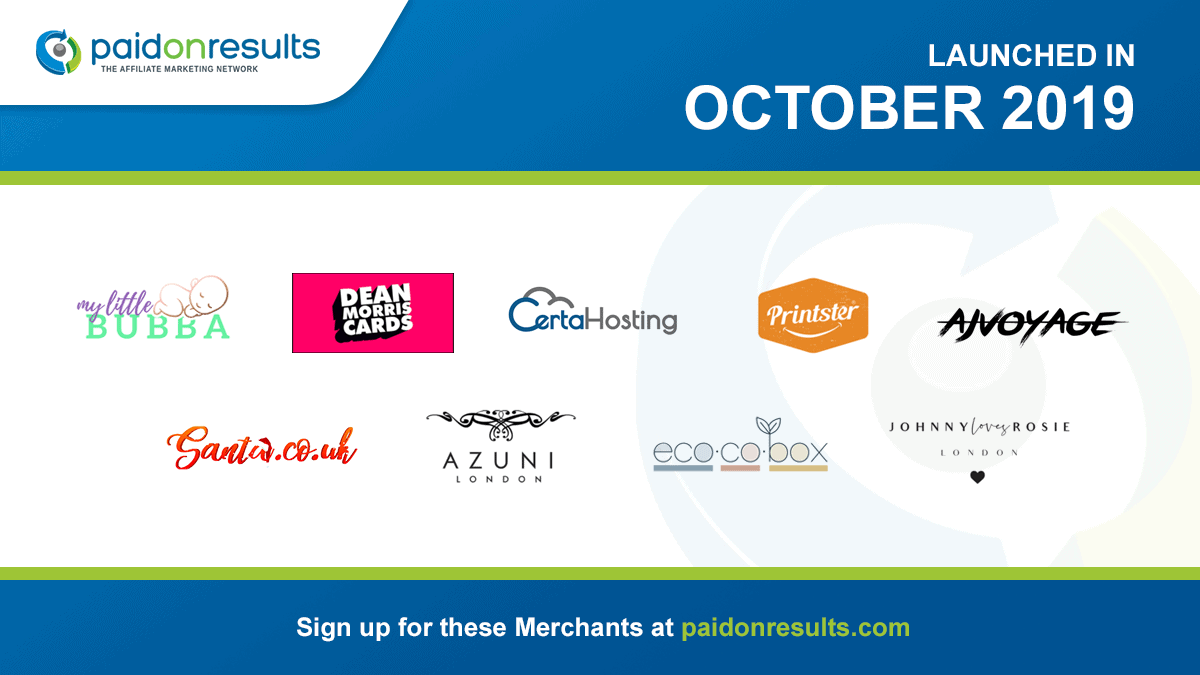 Paid On Results helps boost brand exposure and acquire new customers, with full transparency and accountability, and allows full brand control! What are you still looking for? Join them now and be an affiliate of these merchants who went live in October.
My little Bubba is an online retailer of pregnancy, baby and toddler items and gifts. Their aim is twofold: (i) do the research for parents-to-be and new parents so that they know they are purchasing only the most useful products and (ii) provide baby gifts which recipients who are parents-to-be or parents will actually use and enjoy.
Dean Morris Cards started in 1999 and is a well-known UK greeting cards brand, stocked in high-street stores & featured in mainstream papers like the Daily Mail and other papers on numerous occasions. Funny and rude cards are what we're best known for, although we also have a range of other cards for many occasions from Christmas, birthday, Mother's Day, Father's day, Valentines and many more. 
Certa Hosting is a leading web hosting services provider.  With over a decade of experience, they've continually expanded their offering, embraced new technology and grow their business organically.
Printster.co.uk is one of the UK's leading retailers of fun personalised gifts.
Customers can easily customise a wide selection of fun gifts such as mugs, socks, wrapping paper and hundreds of other items that are ideal gifts all year round!
AJVoyage is the shoe brand everyone is talking about! Join their growth and be a part of something special by coming on board to their exclusive affiliate network. Use your skills to send targeted traffic to their site and take home a piece of the action for yourself with a commission of 8% on every sale, CA-CHING!
Santa.co.uk is the UK's original Christmas website and they are proud to celebrate 20 years of supplying magical personalised greetings from Santa. Over 1 million kids have received one of their Santa Letters, Phone Calls or Text Message. A cohesive range of products and experience-driven innovation means they are expert in both up & cross-selling, boosting basket values for affiliates.
Azuni London (worn by the Duchess of Cambridge) is a leading fashion UK jewellery brand supplying designs to over 350 department stores, lifestyle and fashion boutiques worldwide. They love to mix it and shake it, blending influences from ancient cultures with modern fashion trends, creating accessories for everyday ethical luxury. They believe in slow, conscious fashion – FASHION THAT GIVES BACK. Azuni strives for ethical work practices and support the communities they work with by donating a portion of sales to help children through education in rural Guatemala. Their goal is to increase this aid year on year through their online growth campaign. This a great opportunity for any bloggers and influencers who cover fashion, lifestyle, food, travel or mindfulness to join their tribe and make the world a fairer place. 
With the growing consciousness about environment, sustainability and eco-lifestyle, ecocobox is extremely well timed! They've created a subscription box full of eco and natural products for mums and babies.
They are a small Female run British accessories company based outside of London. Their products are trend led while being incredibly designed and unique to them. They supply a wonderful mix of Jewellery, Hair Accessories and Bags for every occasion. Their pieces can be worn everyday or dressed up for a big event. 
They currently have a strong influencer network online that works amazingly to promote the brand. Their company has been featured across magazines such as Grazia, Elle and Vogue. 
Take the first step now, you can join them through this link: https://www.paidonresults.com/merchants/all-merchants.html